Nomenclature and Diagnostic Criteria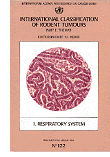 The diagnostic criteria of tumors and pre-neoplastic lesions in all organ systems are presented in a series of 10 fascicles in a compact and easy-to-use format together with numerous images which show the typical appearance of a lesion. The classification contains besides the light-microscopic features criteria for the differentiation of hyperplasias, benign and malignant tumors. The diagnostic criteria have been reviewed prior to publication by internationally recognized experts in the area of toxicological pathology and/or veterinary pathology.

The series has been published by WHO/IARC (IARC Scientific Publications, No. 122). For a list of all titles and ISBN numbers click here.
The corresponding publication on lesions in the mouse has been prepared in a joint initiative between the RITA group and members of many societies of toxicologic pathology (like ESTP (GTP), STP, BSTP, JSTP). Springer Press has published the comprehensive results under the title "International Classification of Rodent Tumors, The Mouse" in April 2001.

Everyone who purchases this book receives free access to the RENI Web site for a period of two years. Please go to the Registration Page! For ordering information, visit the Springer page.

RENI is the extended electronic version of the publications "International Classification of Rodent Tumours" (see above). The system, which was initially developed to support the RITA project, is available since 1998 also in the Internet. Besides the nomenclature and diagnostic criteria, RENI contains more than 1,500 histopathological images and for most of the references direct links to the corresponding abstracts in PUBMED are provided.
Access to the RENI Web site is free for a period of two years if you purchase the book "International Classification of Rodent Tumors, The Mouse".
After finalization of the WHO/IARC publication "International Classification of Rodent Tumours" and the STP publication "SSNDC: Guides for Toxicologic Pathology" the Rat Nomenclature Reconciliation Subcommittee was formed in 1998 together with the U.S. STP and other international societies of toxicologic pathology in order to eliminate differences in both systems and to establish a common nomenclature. For more details, please click here.